The best horoscopes on the web are now at your fingertips, wherever and whenever you need them. You'll never be caught off-guard again thanks to this daily dose of insight. This FREE app is available now for all versions of Android mobile devices.
App Features
Easy-to-set preferences let you default the app to your zodiac sign for quick access to your Daily Horoscope.
One click access to your Weekly Love Horoscope that helps you know when to make your move ... and how to make it!
Rich user experience provides simple-to-use navigation to get to what you want, and get it quickly.
Handy access to the description of each sign, including their strengths, weaknesses and personality traits.
Install the FREE Android App
Use the Bar Code Scanner application scan the image below and open the resulting URL in the Market app:
OR:
Search for "Today's Horoscopes" in the Market app and click "Install."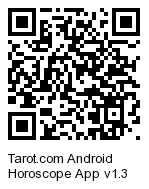 Credits
Developed by: Tarot.com
Written by: Rick Levine and Jeff Jawer
Copyright: 2011