As the communicator of the Zodiac, it seemed to make sense that our Air sign, Gemini, could take flight to seek and spread messages. As you can see, our Gemini character has really evolved through the creation process!
You can see the new Gemini zodiac character for 2015 here, and take a look at our old designs below to see how this two-sided zodiac character has evolved.
Meet our 2015 Gemini character and see all the new designs here »
We wanted to pay homage to Gemini's ruling planet, Mercury. Often Gemini and Mercury the Messenger are stereotyped as flighty, non-committal or talkative. However, real Geminis know there are two sides to a Gemini. We took care to assure that our character embraced the role of messenger while still displaying a superior level of intellect that allows them to retreat into contemplative thought.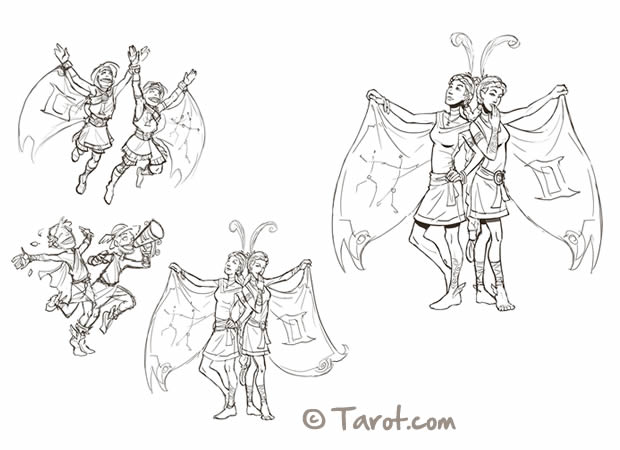 Their cloak-like wings are patterned with butterfly textures. Our Gemini character can flutter in and out of conversations with ease and without too much flair. She's a smooth operator. As individuals, each Twin rests her winged cloak over her shoulder and keeps her antenna alert. Mutli-tasking, they work to seek out topics, conversations or challenges that will bring them to a more intellectually stimulated level. It's when they both fine-tune and join one another on the same frequency that they take flight.
Physical Characteristics
Physically, our Geminis are youthful and simply dressed. We went back and forth between the Twins being represented as boys or girls. In the end, we felt that our cast of Zodiac characters would benefit from a few more female personas. Often shown as identical twins, we wanted to make sure that the two girls were still visually distinct. We used gesture, clothing and decorative markings on their ankles to suggest their individuality. As mentioned, we included a single antenna to each. And on their ankles each Twin sports tiny wings, similar to those of the Greek messenger.
The Twins' expressions are very important. Geminis are masters of communication, and true communication experts know that words alone do not constitute communication. When you couple a powerful statement with definitive body language and facial expression you control the exact way the message should be interpreted. We made one Twin contemplative and serious, while the other is engaging in a more playful and inviting fashion. Detailed eyes, mouth and brow will further express their ability to communicate.
Zodiac Super Power
Gemini's super power is ignited when the Twins come together. It's Gemini's ability to focus and bring their superior intelligence into a singular idea that is all-powerful and undeniable. Our Twins activate their super power when their antennae combine frequency, their flowing amber/red hair braids together and their shoulder cape expands, giving them wings of flight. It's when they merge their thoughts and vision that they take flight and soar miles ahead all other signs of the Zodiac.
Tell us what you think!
What personalization elements would you like to see on the Gemini Twins? Would you like to see different format? Facial expression? Clothing? COMMENT BELOW
Read about another sign:
Aries | Taurus | Gemini | Cancer | Leo | Libra |
Virgo | Scorpio | Sagittarius | Capricorn | Aquarius | Pisces