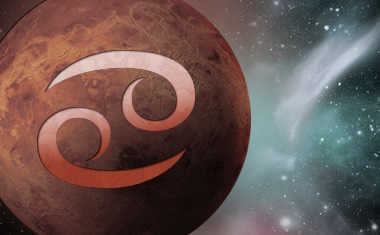 Our love lives have been light and carefree -- but also fairly non-committal -- since love planet Venus moved into Gemini on April 3, but finally romance is about to get sweeter. That's because Venus moves into caring Cancer on Tuesday, Aug. 7, to touch hearts in a much more sentimental way.
Venus is the planet that rules beauty and affection, and Cancer is the most nurturing zodiac sign, so this transit is all about taking care of our closest romantic relationships and putting our partners first. Oh right, and lots of hugs.
While Venus was in Gemini, we were more likely to go out on the town and flirt, but with Venus in Cancer it's much more intimate. We'll want to stay at home and bond, cuddle and kiss and talk about our feelings. Yes, men, even you!
This is a great time for building up relationships, so if your love life has been stalled or if you've been dating a commitment-phobe, things may take a turn for the better now. Especially when Mercury goes direct the next day on Aug. 8.
The only downside to Venus in Cancer is that sometimes we are so sensitive about matters of the heart that our feelings get hurt easily. Cancer's self-protective nature is to withdraw, withhold, hide or pout when hurt, so you may need to watch for such behavior from your partner now. But for the most part this is a sweet time that's rich with feeling, to be spent gazing into someone's eyes and saying "I love you" without using words.