We have several Taurus on staff in our product department, and we recruited them to give us feedback on how our stoic Bull should present himself. As you can see, our Taurus character has really evolved through the creation process!
You can see the new Taurus zodiac character for 2015 here, and take a look at our old designs below to see how this zodiac character has evolved.
Meet our 2015 Taurus character and see all the new designs here »
Sure enough, Taurus' love of finer things and knack for indulging the senses all came to mind. Our Bull, while known for being stubborn, is less about standing in your way and more about looking good while he's doing it.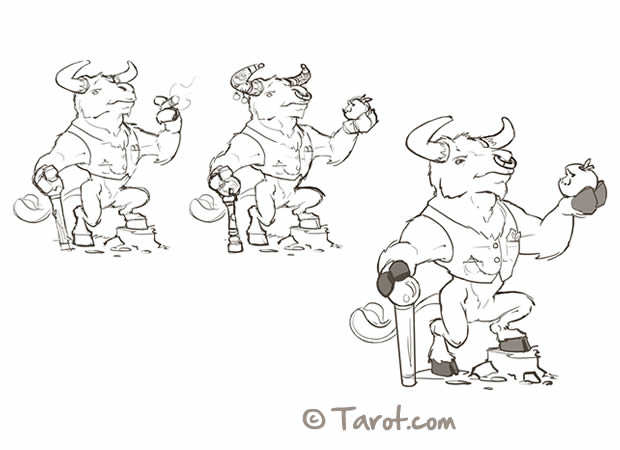 We wanted to be sure our Taurus wasn't in a stance or position that implied he was aggressive or prepared to charge. That's not what our Taurus friends are about! They're actually quite calm and even-tempered. But his one leg up on the stepping stone does hint to the Taurus inclination to be a bit stubborn at times.
Sure they are big and bulky, but Tauruses are a classy brood. They know the value of quality and love anything that tastes, smells or sounds divine. However, we didn't want him to appear too materialistic. After all, Taurus is very savvy about the value of a dollar. He'll get what he wants for the price he wants -- even if it means he has to use his stubborn know-how to get the price down.
Physical Characteristics
Physically, we wanted our Taurus to appear large but not clumsy. He's not an ox or a clumsy bull in a china shop. Our Taurus is actually quite eloquent and sophisticated. We wanted him to wear clothing that marked his desire for good taste and feeling "put together." Our early sketches showed him holding a fine cigar. Then, someone suggested he hold a brandy glass. We ultimately felt it was more appropriate to have him eating an organic and earth-born apple.
His eyes and horns are very important. We want to show a very content and confident bull. Again, his horns could have gone in many directions. We tried making them more decorative, but also felt that was a bit too showy for our classy bull.
Zodiac Super Power
The Bull's super powers reside in his super senses: smell, taste, sound, sight and touch. He is tightly connected to the earth (an Earth sign) because he uses his super sensory powers to anticipate and create a world of value where many could see none. Of all the signs, our Taurus is the most sensory sign of the Zodiac --never missing a window or chance to improve the quality of life on this earth.
Tell us what you think!
What personalization elements would you like to see to this Taurus? Would you like to change his horn style? Facial expression? Clothing? COMMENT BELOW
Read about another sign:
Aries | Taurus | Gemini | Cancer | Leo | Virgo |
Libra | Scorpio | Sagittarius | Capricorn | Aquarius | Pisces