Our lovely Virgo! She seemed so simple at first, right? As you can see, our Virgo character has really evolved through the creation process!
You can see the new Virgo zodiac character for 2015 here, and take a look at our old designs below to see how this pristine zodiac character has evolved.
Meet our 2015 Virgo character and see all the new designs here »
Just a beautiful, natural looking virgin blonde woman all dressed in white . . . NOPE! We know our Virgo character is much deeper than that!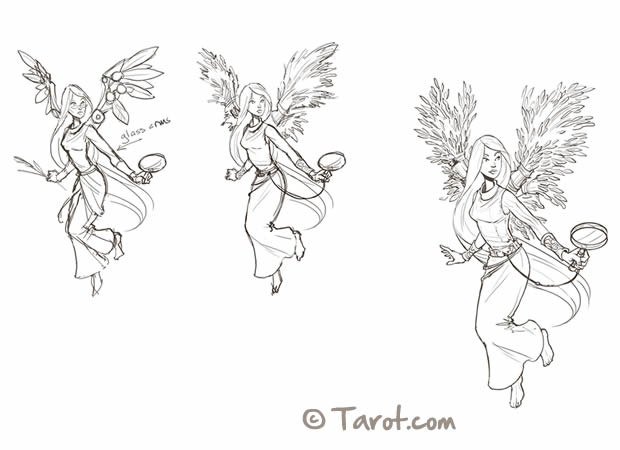 We feel strongly that our Virgo woman should embody the pure, elegant female icon that is associated with Virgo, but instead of a halo of virginity or religious inference, we gave our Virgo wings made of wheat! Often depicted with the grain of wheat, our Virgo uses her grounded elements to give her flight.
Have you ever been told or heard that Virgos often wear glasses? Seems silly to think, but start taking an informal poll of your Virgo friends. You may find many of them wear glasses! Why is this? Their extreme attention to detail and penchant for reading and amassing knowledge. We tried giving our character glasses early on, but just felt it wasn't resonating. So instead we gave her a magical magnifying lens attached to a golden change around her waist.
Her grace and beauty are all very consistent with her desire to soar toward perfection. She seeks to live by example. Her facial expression shows her gaze over her shoulder, indicating she seeks to benchmark, compare and evaluate people and things.
Physical Characteristics
We made our Virgo young in age, but mature in stature and presentation. She's conservative and elegant. She's clean and well groomed (as many Virgos are!). Her flowing gown is white and her accessories are golden, complementing her wings of wheat. Adding to her seemingly pure and flawless goal in life, we have left her barefoot. Keeping her still rooted in the earth. She can take flight, but is rooted always in her desire to be right.
Zodiac Super Power
Virgo's super power is her magical magnifying glass and wings of wheat. She seeks to raise the bar by holding everyone accountable to the same levels. She uses her lens to see minute details and to set fire to those who are not up to her standards. Her wings give her the ability to soar above other signs of the Zodiac, once again giving credit to her commitment to superiority and the highest level of achievement.
Tell us what you think!
What personalization elements would you like to see on our Virgo Virgin? Would you like to see a different format? Facial expression? Clothing? COMMENT BELOW
Read about another sign:
Aries | Taurus | Gemini | Cancer | Leo | Virgo |
Libra | Scorpio | Sagittarius | Capricorn | Aquarius | Pisces