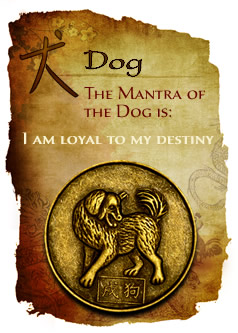 Love for the Dog man
The Dog man is hypersensitive and proud. If you are a Dog man, you have enough confidence to find a romantic partner, but if the other party laughs at you or hurts your feelings, you withdraw easily. If you love a Dog man, try to hold him on a short leash andlead with softness and tenderness. Your Dog man adores being quietly dominated and will love you forever for the guidance you give. He will only accept a partner who is committed to truth and, if you are that one, he will let you in like a happy pup. Make your Dog feel secure about your true feelings -- if you know he's your guy, look forward to a long, passionate relationship.
Love for the Dog woman
You Dog women are not easy to catch and tend to be a bit distant even when you dream of passionate love with someone. When you finally admit you are in love, you will show your feelings discreetly -- or even secretly -- until you are very sure about the relationship. If you love a Dog woman, you'll learn that she doesn't trust many people but when she does, it's forever. When a Dog becomes a mom, her involvement in the lives of her children will be fanatic. A Dog's children are the best in the whole world and can't do anything wrong in her eyes. Her devotion to her little pack -- including you -- will be unrivaled.