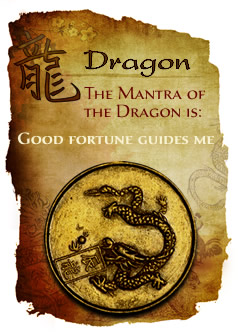 Love for the Dragon man
The Dragon man enjoys chasing the field -- and will keep it up for a long time -- until he finds his one true love. He attracts lovers by the bushels because his aura is full of power and charm. Dragon men will have many partners. Each time the blush of romance fades, they go looking for another taste. If you want to chain a Dragon man, flirt with him but don't let him win you too easily. Make him wait and he will long to conquer you -- even resorting to marriage to ensure that you are his -- and then ... tadah! ... you've got him. For such a woman, he will stop his adventuresome pursuit of others for the rest of his life.
Love for the Dragon woman
Dragon women are charming and enjoy flirting throughout their lives. They are not jealous and don't tolerate jealous lovers. When they find a great partner, they will first hide him or her in the swamp to enjoy the relationship privately. A Dragon woman is looking for a partner that understands her soul and that can live with the incredible power she carries as a Dragon. A confident, accomplished lover is the best fit for her.