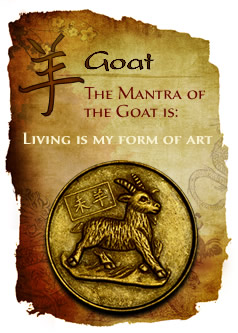 Love for the Goat man
Goat men will start to fall in love many times, but are always waiting for the special partner that can crack the walls around them. Goat guys tend to be overly critical and focus on finding the ideal partner -- who, of course, does not exist. Once they can let go of their high ideals, they can open their hearts. If you love a Goat man, encourage his self-confidence and boost his belief in his own talents. It can be hard to please a Goat man because he can quickly change moods, with no apparent good reason. They believe there is only one partner for them in this life and if that goes wrong or does not materialize, they tend to stay solo.
Love for the Goat woman
Never forget your wedding date with this woman! Give her a gift every week or bring her flowers for all the occasions she thinks are important. Then you will be the ideal partner. A Goat woman likes a perfect household -- having a well-ordered and beautiful home with her partner is very satisfying to her. Most Goat women believe in and seek out the traditional marriage ... and, with their natural creativity, they usually find it.