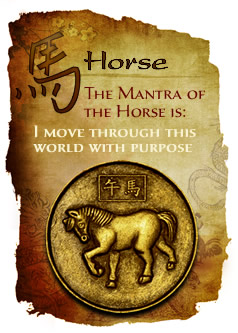 Love for the Horse man
The Horse man loves passionately and is good at attracting romance ... but Horse men can hurt their partners with words and turn them away. The male Horse can be a jokester with their lovers and friends, but if their partners don't understand that it is all in fun, hurt feelings will make them bolt. To understand a Horse man you need to be nearly psychic yourself. The Horse man loves tender love games ... and you better love them, too, if you want to keep your romance running the open range.
Love for the Horse woman
The Horse woman is set on fire quickly ... but the fire can go out fast. She needs a partner with experience and with enough fortune to attract and keep her wild nature between four walls. She loves older partners when young, but when she is older, her preference could tip toward younger beaus. The one that understands how fast she changes her mind -- and can laugh about it -- is the one for her. If you want to win a Horse woman, you just need to make sure you can keep up with her passionate nature -- she's passionate in mind, heart and body!