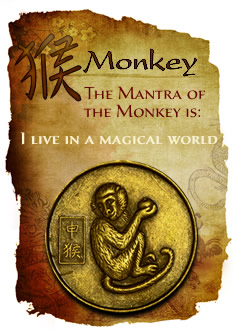 Love for the Monkey man
Before they settle down, male Monkeys like to play the field and meet many different types of people. They attract partners with their humor and by sharing their fantasies about how great marriage with each other can be. The Monkey man will decide quickly that you two should move in together, but don't be deceived ... he may be your main squeeze, but he will still behave like a single guy. Monkey men tend to marry late because partying is such great fun. As a father, your Monkey man will be loyal but it's wise to allow him his weekly night out with friends. He needs a lot of social freedom to be satisfied and to keep feeling like a young monkey. Welcome him home with open arms, don't ask too many questions about where he's been or what he's done, and he'll be your mate for life.
Love for the Monkey woman
Monkey women take time to find the right partner and will persevere for a long time until they do. However, they tend to have a short passion span. But you can inspire a Monkey woman by taking her interesting places, like the theatre, and showing off your knowledge of music or the arts. Helping her to decorate can also court her favor. It's important to follow a Monkey's rhythm -- she can be very up and down emotionally, but once you have children together, she will be devoted to you for the rest of her life -- Monkey women love to take care of family and children. Make sure you keep up a lively social life and go out together often. Your Monkey woman needs to tap into the excitement and glamour of life for as long as she lives.