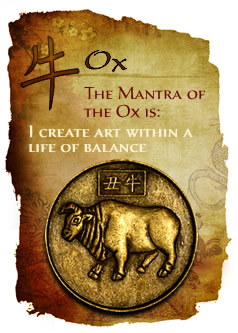 Love for the Ox man
An Ox man loves 100 percent. He will not have many serious partners in his life, just one or two, because Oxen tend to be very faithful. Their humor and charm will make the partner of their dreams very happy. But if you are in a relationship with an Ox man, beware ... you are his possession. The Ox will show his horns when someone else shows an interest in you. As long as you do as he wants, he will love you dearly -- otherwise he can show anger. Tender and soft for the love of his life, the Ox makes a great father but will insist on having the final word when it comes to decisions.
Love for the Ox woman
Give this woman the freedom of running the household and it will be perfect, charming and warm. But you need to let an Ox do what she wants. Trust her and she will always do the right thing. Ox women love to love with humor and laughter. Very faithful, they expect the same from their partners. The best combination for an Ox woman is the Ox man. Sexuality is important for her, and she is more sensual than her Ox man. She is traditional in her lovemaking and needs a lot of tenderness.