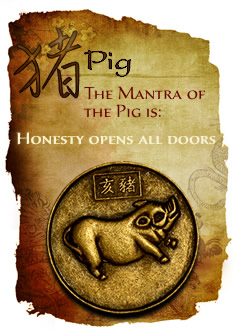 Love for the Pig man
These men are model partners. They will worship their partners, and they pour energy into their children to help them be their best. Although Pig men can be stubborn, they don't like any fuss or conflict and would rather give in for the sake of peace. They are sometimes a bit boring -- that could be the only reason for divorce because otherwise a Pig makes a near perfect mate.
Love for the Pig woman
These women enjoy life, and love is a great game for them. They are more charming than the male Pig. They are good listeners but enjoy talking and cuddling too. Elegant dressers, Pig women are reserved but warmhearted. You can seduce them with affection and a love of family. They make great mothers, but they don't like their children to cheat.