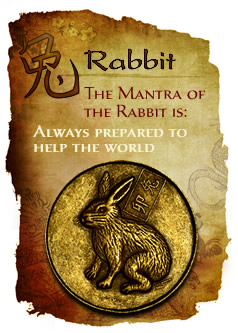 Love for the Rabbit man
Rabbit men love to share a home with a partner who takes care of them and doesn't fuss over every detail. Keep things flowing and peaceful, and your Rabbit man will be a pleasant, ideal mate. Don't create conflicts with him -- if you do, he could run away. Easily wounded, if a Rabbit man's love relationship ends, he will stay alone for a while before seeking another partner.
Love for the Rabbit woman
Rabbit women make ideal marriage partners, as they have a natural gift for multi-tasking on the home front: taking care of children, creating harmony and beauty in the house and preparing fast, wonderful meals. They are great at taking care of everyone, but they need the freedom to learn things on their own. They also love to go out for an energizing night on the town. Rabbit women are speedy in whatever they do. Because a Rabbit has a hard time taking really good care of herself, attracting a partner is not always easy for her and generally will not happen early in her life. The ideal partner for a Rabbit woman is someone who listens to her worries and pains -- a compassionate, at-home-therapist type. She needs emotional and mental comfort. Give it to her and she will be loyal to you for the rest of her life.