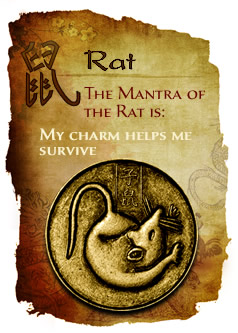 Love for the Rat man
This man loves the good life. His ideal form of pleasure involves a harem and sumptuous food at all times. Using his vast charm, the Rat man approaches love as an extended practice session until he finds the ideal mate ... which of course he never does. Don't let his generosity fool you -- it's usually self-serving. But toward the end of his life, one partner will settle down a Rat man ... someone who at least comes close to his ideal. When a Rat becomes a father, he teaches everything he knows to his children.
Love for the Rat woman
A Rat woman falls in love over and over again -- she simply loves the game of love. One of the most passionate signs, she can also be very jealous. Be loyal to this elegant woman. Otherwise you will feel how sharp her words and actions can be. Her long-term partner has to be strong, charming and full of promises of undying love for her.