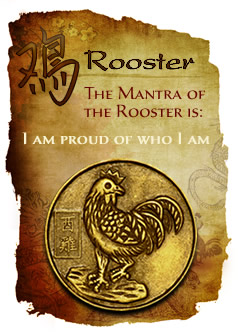 Love for the Rooster man
The Rooster man is very charming. Although he seldom becomes close friends with other men, he attracts many female friends who understand his passion for beauty and luxury. If you love a Rooster man he'll give you many chances to show off with him. But he could also demand a lot of you. Rooster guys want to find someone will take care of them for the rest of their lives. They want to be proud of their partner ... someone who tends to his/her appearance and works to remain young-looking and beautiful. Life will not be dull -- or calm -- with a Rooster man. If you snag one, hold tight -- you'll be in for a lively and interesting ride.
Love for the Rooster woman
The female Rooster is more loyal than the Rooster man, as she wants to be the only chicken in her lover's flock. She will do anything for the love of her life as long as she can be proud of him/her and is sure that her partner's loyalty is unwavering. She will take care of her children as a mother hen does ... love them dearly and tend them well.