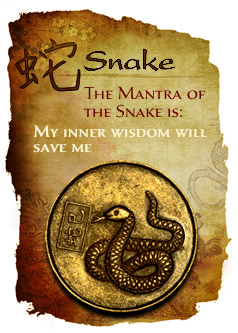 Love for the Snake man
Snake men go for whomever they see as an ideal partner. Even if this person is not a good fit, they will convince themselves they've found "the one." They tend to marry the first person they are in love with. Even if love fades, they will remain the best partners and the best fathers. But if you love a Snake man, don't make any big mistakes -- and definitely don't have an affair -- as your Snake man does not accept major transgressions ... and will never forgive you for them.
Love for the Snake woman
This woman is full of ideas about how to win a prospective partner's interest. She becomes the ideal woman in order to get her partner hooked -- in fact, she will try anything. The best partner for a Snake woman is someone who is happy to share his/her love and fortune with her and at the same time allow her the freedom to explore life fully. If you are in a relationship with a Snake woman, you are her possession. Her devotion to you and to your children will be unlimited, as long as you are not making her jealous in some way. Be very faithful if you want to keep your Snake gal happy!