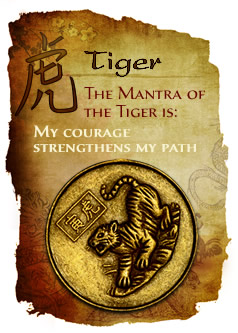 Love for the Tiger man
A Tiger man loves to have several possibilities at the same time. He needs a partner who shares his interests and has an opinion. When you demonstrate your intellect to the Tiger man, he will be faithful, as he is easily seduced by mental prowess. But if you only go for body language, he will soon look elsewhere. Flirting and small adventures will continue after settling down with a Tiger, since such playfulness reinforces the seductive power of his stripes. His heart is loyal ... and he marries only when he can afford it and preferably when his partner no longer needs to work.
Love for the Tiger woman
The Tiger woman enjoys the game of love and passion and is always full of life. She tends to dives into romance fast and will marry quickly, too. She is only happy with her partner if the relationship allows her plenty of freedom, if she is able to hold the reins when it comes to decisions ... and if you are willing to follow her lead. Tiger women have great character and are generally very joyful. If you love a Tiger woman, make sure you have plenty of energy and personal power, because she can't stand depressed or tired people. Mutual effervescence will inspire life-long partnership with the passionate tigress.