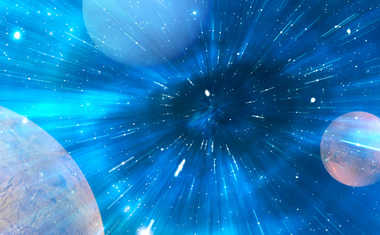 Master Astrologer Jeff Jawer reveals the key planetary activity stemming from the New Moon Solar Eclipse in Taurus, from May 9 through June 6, 2013.
For a totally personalized look at how this cosmic activity will impact your life, get a custom 30-Day Astrology Forecast from Jeff Jawer and Rick Levine!
Venus in Gemini
Thursday, May 9, 8:04 am PDT, 11:04 am EDT
We are open to a wider variety of people and pleasures with vivacious Venus in this versatile sign, adding fun, flirtatiousness and a touch of lightness to relationships. Finding alternative sources of income and social stimulation may resolve financial and self-worth issues. Consistency of affection is less important now, inspiring a more playful approach to matters of the heart.
New Moon Solar Eclipse in Taurus
Thursday, May 9, 5:28 p.m. PDT, 8:28 p.m. EDT
New Moons begin monthly cycles, but eclipses are also about endings. So, getting a project off the ground now requires completing some unfinished business first. Normally, the Sun-Moon conjunction in earthy Taurus is cozy and sensual, evoking images of prosperity, pleasure and ease. However, this New Moon Solar Eclipse marks a time to take a step back from our desires and resistance to change to reevaluate the habits and values that we hold dear. They may provide familiarity, but not the emotional and physical nutrition we need to grow and prosper. Don't settle for less, because letting go of something that's just adequate allows you to attract something great.
The Taurus New Moon is rich and fertile, providing fresh ground for material growth. However, because it's also a Solar Eclipse, there is much weeding to be done in the garden of values, possessions and self-worth before fresh seeds will be able to take root.
Mercury in Gemini
Wednesday, May 15, 1:42 p.m. PDT, 4:42 p.m. EDT
Information is processed at a faster rate than usual with speedy Mercury zipping through its airy home sign. Multi-tasking works well with Mercury in adaptable Gemini, where minds are more open and attention shifts quickly. Scattering our thoughts is a potential pitfall, while healthy curiosity, conversational skills and intellectual flexibility are strengths.
Sun in Gemini
Monday, May 20, 2:10 p.m. PDT, 5:10 p.m. EDT
The Sun bounces into buoyant Gemini to lighten our journey through this world. This movable, mutable sign stimulates minds and encourages communication. There is some risk of superficiality with the Sun in Gemini, as we tend to skip across the surface of serious matters with overthinking rather than descending deeply into our feelings. Yet it's this very same rational detachment that provides the objectivity needed to overcome long-held prejudices. Learning to appreciate a variety of experiences and perspectives helps to overcome harsh judgment and intellectual rigidity.
Uranus Square Pluto
Monday, May 20, 4:02 p.m. PST, 7:02 p.m. EDT
This third of seven transformational squares between rebellious Uranus in Aries and dominating Pluto in Capricorn continues the theme of radical shifts that have been shaking the world since last year. With Uranus square Pluto, tension builds when fear intensifies, amplifying the desire to control the environment and suppress the forces of freedom. The most successful systems have structures that leave room for discoveries and surprises that blow off steam and invite innovation.
Full Moon Lunar Eclipse in Sagittarius
Friday, May 24, 9:25 p.m. PDT, Saturday, May 25, 12:25 a.m. EDT
Lunar Eclipses are meant to close chapters in our lives; it's time to eliminate habits that have lost their usefulness. This Full Moon Lunar Eclipse is in visionary Sagittarius, an adventurous sign with aspirations for learning, travel and truth. It indicates that a grand vision, philosophical viewpoint or religious belief may require some significant rethinking. However, elusive Neptune's square to this Sun-Moon opposition is likely to fill our minds with new fantasies. This is a tricky lunation that is superb for inspiring imagination and intuition, but it might mislead us with unfounded hopes and unrealistic promises.
Mercury in Cancer
Friday, May 31, 12:07 a.m. PDT, 3:07 a.m. EDT
Thoughts are filtered through feelings with this brainy planet occupying such an emotional sign. Conversations can be tender with Mercury in Cancer, especially when words are used to support, protect and gently encourage others. Yet there is such a subjective side to our perceptions during this transit that it's helpful to step back occasionally to take in a broader point of view than one that is limited by personal history. Mercury's stay in intimate Cancer is prolonged until August 8 due to its retrograde period in this sign from June 26 through July 20.
Mars in Gemini
Friday, May 31, 3:39 a.m. PDT, 6:39 a.m. EDT
Mars is like the energizer bunny in busy, bouncy Gemini, offering flexibility and diversity that make it easy to juggle several tasks at a time. However, a lack of concentration could encourage carelessness that leaves tasks done poorly or not finished at all. A little extra planning and time management will be helpful during Mars in Gemini to keep from losing sight of priorities and going too far off course.
Venus in Cancer
Sunday, June 2, 7:13 p.m. PDT, 10:13 p.m. EDT
Relationships are cuddlier with the love planet Venus in the warm and caring zodiac sign of Cancer. We feel safe in familiar places and we are attracted to people with whom we have a great deal in common. However, new and different experiences may be less appealing because sensitivity in all of our interactions is likely to increase. Being kind without becoming clingy is a good way to cultivate a new connection or deepen an old one.
Neptune Retrograde
Friday, June 7, 1:24 a.m. PST, 4:24 a.m. EDT
The reversal of soft-edged planet Neptune is not likely to be an obvious event. Yet Neptune Retrograde turn can slowly lead to an internal review of existing ideals and dreams until mid-November. This period is also one in which creative inspiration and spiritual truth tends to arise from within.
Get your personal 30-Day Astrology Forecast from Jeff Jawer and Rick Levine now »