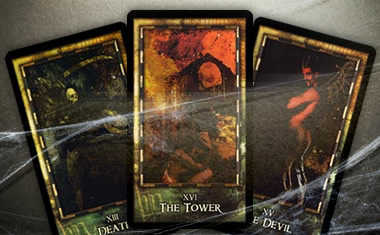 Looking for some insight this week? There's a Tarot deck for that. If you're planning on consulting the Tarot between now and October 31, you might want to try shuffling one of these aptly-themed decks. The fun of Halloween combined with the guidance of the Tarot -- that's what the I call a real treat!
Halloween Deck
The Halloween Tarot deck puts a spooky spin on the classic Tarot, with ghouls, goblins and black cats galore. The Fool card becomes a creepy clown, The Emperor and The Empress are depicted as Frankenstein and his bride, and The Tower is transformed into a haunted house. The Minor Arcana suits are renamed as well: Wands, Cups, Swords and Pentacles become Imps, Ghosts, Bats and Pumpkins, respectively. It's a fun take on the traditional Tarot, and a great way to get into the Halloween spirit.
Vampire Tarot
The Vampire Tarot deck is dark, haunting and beautiful. (Much like my favorite fictional vampire, Damon Salvatore. Swoon!) The rich imagery depicts vampires of all stripes, from the regal to the wild. Some clever twists on the classic images include The Hanged Man as a vampire sleeping upside down, bat-style, The Lovers depicted as a women being bitten by a vampire, and The Star features a female vampire standing in a river of blood. Also notable is that the Ace cards are each represented by a coffin with the suit's symbol on top. It's definitely worth a look-through, just for the amazing art alone.
Tarot of the Witches
The Tarot of the Witches deck is whimsical and fanciful, featuring bold colors and dreamlike fantasies. It doesn't stray too far from the classic Tarot depictions, but it does inject a bit of humor into them. Fun fact about this deck: It was featured in the James Bond film Live and Let Die, and was originally marketing as the "007 Deck."