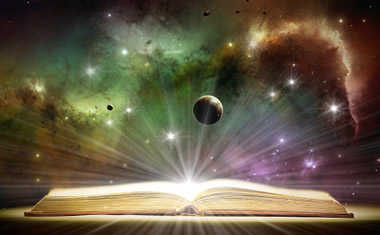 One of the challenges of practicing Astrology is deciding how to color the information we give to our clients or write about in columns and horoscopes. The data provided by the patterns of the Sun, Moon and planets can be interpreted in many different ways. We start with traditional astrological ideas about what is "good" and "bad." Certain aspects (significant angles between planets) are considered to be favorable, while others are deemed to be difficult. Similarly, planets are at home in some signs and uncomfortable in others. Astrological practice, then, reported some events as positive and others as negative.
Life seems simpler when we can divide it into categories like good and bad. The question, however, is whether that's useful or not. In the late 1960's and '70s, the Humanistic Astrology of Dane Rudhyar put a new frame around the subject. Instead of using Astrology as a means of describing a personality or the future in positive or negative ways, it was applied its symbolism as a tool for transformation. From this perspective there is no "good" or "bad," as every event and experience was seen as having a meaning. The purpose of Astrology was to reveal that meaning as a step toward personal growth. Even the most difficult patterns in birth charts experienced as difficult psychological issues were interpreted as guides toward fulfillment rich in potential for self-awareness rather than mere problems to be avoided.
Humanistic Astrology paralleled the human development movement of the time when we were more optimistic about our individual and collective potential for growth. During the ensuing years, however, much of Astrology has returned to its traditional past and has been applied as a predictive rather than prescriptive tool. This follows the cultural patterns of uncertainty that have made the open ended idealism of the '60s and '70s seem less relevant today. When times are tough, people want definitive answers to immediate issues and they lack the interest and patience for more thoughtful and complex replies.
Well, perhaps the current crises we face demand complex answers. The simple ones we crave cannot answer the bigger questions we face. Our culture is in crisis and we need to understand more about our purpose and potential before we can resolve the issues that we face. Is humanity on a new path for creating the future, or are we nearing the end of our time here on Earth? I'm convinced that finding a fresh purpose and writing new stories is more interesting than folding up our tents and moving on to the next dimension. Astrology's role in making this happen is best fulfilled when we apply the humanistic values of finding meaning in every moment and apply its symbolism as a tool for designing the future.
A way to do this is to interpret every astrological event from a creative perspective. For example, on August 15 active Mars joins restrictive Saturn. This conjunction of Astrology's traditional malefics is usuaglly seen as bad news. Angry Mars is frustrated by punishing Saturn and disappointment and delays are bound to ensue. This is a reasonable interpretation yet what is its value? It may placate an impatient person who must wait to advance his or her interests. It provides an excuse for those unable or unwilling to take action. Yet this can also be interpreted as a symbol of excellence when Mars' sharp edge of competence is joined by stabilizing Saturn's maturity and discipline. Individuals who have prepared themselves properly will be able to take initiative and act as leaders. And those who are not yet prepared to take control of their lives can find the patience and commitment needed to develop their skills or to start doing so in the near future.

Astrology's usefulness to our survival and well-being depends upon how we use it. The same is true for the other sources of ideas and information that enter our lives. When we leave volition behind and surrender our capacity to learn and grow, we fall into powerlessness. But if creativity and a desire for consciousness are present, we have the capacity to shape the future.