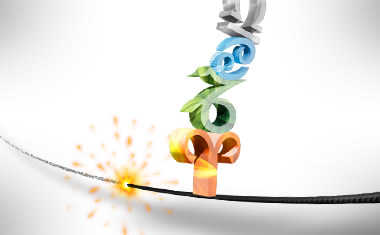 Certain times in our life require more adjustments than others. This month, especially if you've got a personal planet or angle near 7 degrees of a Cardinal sign (Aries, Cancer, Libra, and Capricorn), you'll need to armor yourself for a bit of a revolution.
You might walk into September feeling agitated about a specific situation in your life. It could be a business arrangement, a domestic matter, a relationship or even your personal direction. Whatever the condition this area that agitates you is in as you begin, the month probably won't look the same by month's end.
You might recoil at the thought of compromise, settlement or peace just for the sake of not making waves. Your consciousness is speaking to you this month, and it's telling you that it's time to be brave. Wear red and get ready to stand up for yourself.
By all means, this may be long overdue. I have no idea what is happening in all of your personal stories but I can see the pattern and the theme. And in most instances, the change that will happen this month will be one you design, however it has been in the gestation stage for months already.
At the same time, however, the second half of September will require your full awareness. We will all be walking on a tightrope of dynamite. For some of us, there will be a speedy escape, but for others a radical personal explosion. Uranus and Pluto will make a second square on September 19 at 7 degrees of Aries and Capricorn. Then, on September 29, an angry full moon at 7 degrees of Aries will occur on the same day that the Sun in Libra makes a square to Pluto and opposes Uranus.
We can anticipate volatile world events around the end of September and into the first days of October with this energy. It is certainly the kind of Astrology noteworthy enough to prompt me to write this column. Now, I'm not trying to frighten anyone, so please don't panic or misunderstand me.
This is simply an unstable time astrologically, and it will be important to remain aware and fully engaged with your higher self when you make decisions this month. Most of you will not be directly involved in a major, life-altering shake-up; instead you'll be watching it from the sidelines.
For those of you with personal planets (Sun, Moon, Mercury, Venus, Mars) or an angle in your chart between the first and 12th degree of any Cardinal sign (Aries, Cancer, Libra, Capricorn), you are very likely about to experience a significant change.
I speak to you as a human being as much as an astrologer. We cannot grow without change. Sometimes the universe conspires to get us "fed up" enough to make a bold, if not somewhat reckless, move to ensure that we move on to the next chapter in our life. This is not something to fear, but it is something to be aware of. That's because you CAN control the level of frenzied energy you put out into the world, and it will be imperative that you exercise prudence in your actions at months end.
And on that note, I for one am not panicked at all. I am merely curious. I've got Venus at 4 degrees Aries, Saturn at 2 degrees Cancer, Mars at 11 degrees Cancer and Pluto at 4 degrees of Libra. My chart will be lit up at the end of the month and I WILL personally feel this Full Moon and Uranus-Pluto square and all the rest of it in a truly personal way.
I have a couple of ideas about exactly what sh*t is about to hit the fan of my world. And if you have planets about to be triggered this month, I know you've got an idea about your own sh*t as well.
It will be a month of change, but it can also be a month of glorious empowerment.
You decide.