Expand your knowledge today
Astronomy Articles and Blogs
There's always something new to learn...
---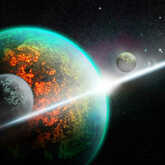 Can't we all just get along? It's funny, but when it comes to the age-old battle between Astrology vs. Astronomy, it really wasn't until the "Age of Reason" the situation became unreasonable. Read More »
---
Get Your Free Horoscope Email
Subscribe to get your personalized horoscope sent to your inbox daily.