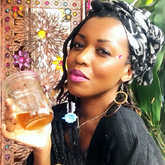 Chartreuse Tembo Barriere
Astrologer, teacher, and author
Chartreuse Tembo Barriere is the First Lady of Astrology, also known as the AstroFLOTUS. Her contributions center around universal spiritual principles which reflect the truth of who we are: perfect Oneness.
Beyond teaching, mizChartreuse exemplifies how we can both intellectually know and actually BE the embodiment of the One in our daily, practical lives. Her book, The Yoni Egg Shadow Integration Workbook: your 28-day Guide through the Womb Wellness Journey, guides stargazers in decoding their birth charts to elevate to the experiential realm of the cosmos.
Chartreuse created The Venus Academy of signature courses and services to assist women in cultivating divine feminine magnetism, womb wellness, and righteous relationships. She is the producer of the Cosmic Tea talk show, a co-host on the Rebel Lion Radio Show, and a student of A Course in Miracles.
More For Today
Weekly Love Horoscopes
Weekly Tarot Horoscopes
Monthly Horoscopes
2023 Love Horoscopes
2023 General Horoscopes
Personalized Horoscopes
View All Horoscopes
View All Tarot Readings