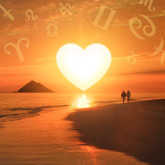 Summer Love Horoscopes
It's "decision time" for lovers this summer!

We were warned 2012 was going to be an extraordinary year, and this summer the planets won't disappoint anyone who's up for some excitement in love. With or without an actual apocalypse, there will be plenty of planetary action for us to monitor. And none of us can afford to forget about the importance of love!
When the transformational power of Pluto squares off with the erratic energies of planet Uranus on June 24, won't we all want to have someone to hold on to? Then, one day later, Jupiter will throw its most expansive vibes at fantasy-prone Neptune! Saturn will go direct, and then a few days later that long and arduous Venus retrograde will come to an end.
It will be "decision time" for many, and for most these events will heat up the summer past the boiling point of passion! Read for your zodiac sign below to see how you can best approach your love life to make sure you're not missing a bit of the sexy, sultry, loving and tender moments that contribute to that exotic mix we call Summer Love.
Aries (March 21 - April 19)
You're going to have to deal with more than a few conflicts of interest in order to get your lovin' this summer. Pluto in your 10th House of Career keeps you hot-to-trot about your profession and scoring points with bigwigs, but will this leave you the time you need to pursue relationship tenderness? Planet Uranus will light a fire inside you that says you're enough all by yourself, but is that for real? You'll find out the answers to all these questions and more when Mars moves into you 7th House of Romance on July 3. This fiery orb will bring along a torrid attraction -- or insistent pleadings from your current partner, who desperately wants you back in the bedroom.
Taurus (April 20 - May 20)
This summer, you'll be on a quest to communicate more frequently and clearly about your need for love. First, you have to determine what you really want, and Mercury's retrograde period from July 14 to August 7 in your fourth house of home, family and tradition will tell you a lot. You might be surprised at how important tradition, loyalty and that sense you're "related" are when it comes to your choice of a partner. Neptune in the 11th House of Friendship could soften your stance on not mixing friendship and romance, so don't discount anyone as a satisfying potential partner. With Mars in your 5th House of Diversion, you'll strive to bring "fun" back into dating and mating, whether you're attached or not.
Gemini (May 21 - June 20)
Love is more than a string of simple flirtations, and if you don't believe that yet, you might by the end of this summer. Jupiter's largesse will be a huge influence on you now that it's bursting out all over in your sign. You'll want to extend yourself more than usual, and this can only make your love life even better. You can continue to capitalize on Venus in your sign, especially after June 27, when this bundle of sweetness comes out of retrograde. Re-invent who you are as a full participant in your existing relationship, putting more emphasis on what you can give and get from being a loyal, loving and supportive partner. Not coupled up yet? Love can be yours, if you want it.
Cancer (June 21 - July 22)
You always shine the brightest in the summer, and this year your love light will go on early and intensely. Your mind will be filled with romantic ideas, with Venus spending such a long time in your 12th House of Imagination and Contemplation. If you're not already in love, you could be imagining what it might be like, or already fixated on a secret crush. Don't keep your loving impulses to yourself! With the Sun in your sign starting June 20, and Venus moving in from August 7 to September 6, you'll be exuding all the things that makes the right mate fall in love with you -- for the first time, or all over again. Use the New Moon on July 18 to make some changes in the way you express your romantic intentions.
Leo (July 23 - Aug. 22)
You can be a bit of a stickler for keeping things the way they are, or at least getting some control over the way they might go -- but things could change this summer. After getting the full impact of a Lunar Eclipse during early June in your 5th House of Dating, you might start the summer noting an uptick in your social activity. Capitalize on this by studying the image you project during the Mercury Retrograde in your sign from July 14 to August 7, and going out of your way to advertise all the hot stuff you have to offer with the right look. Expect results around August 1, when the Full Moon shines the halogen lamps on your 7th House of Love, Romance and Partnership.
Virgo (Aug. 23 - Sept. 22)
With Mars hammering your sign and your 1st House of Personality and Image for so many months this year, it's been hard to make your love life work. While it was good you could boundaries and assert your needs, now it's time to soften up. It's warmth, openness, a gentle hand and a gracious tongue that will win lovers over, both in and out of bed. Mend fences when Mars moves out of your sign on July 3. By then, new friends may have entered your life, thanks to the Sun in Cancer lighting up your 11th House of Community and Camaraderie. If you're part of a couple, enjoy some summer crowd scenes together, and it you're single, re-consider the romantic potential of a so-called "platonic" connection.
Libra (Sept. 23 - Oct. 22)
A more discerning attitude will help you make healthy relationship choices this summer. The first shift you might note will be a clearer perception of the people you meet as friends and on the dating scene, now that Neptune has left your 5th House of Friends, Diversion and Dating. A New Moon in your 10th House of Status will help you form new ideas about your desired image and your role in the world. Don't settle for less in your relationship life just because you're busily building up your public persona. By the time Saturn moves forward and Mars makes it into your sign and your 1st House of Personality, you'll be ready to make some definitive moves that make love and sex a healthier part of your life.
Scorpio (Oct. 23 - Nov. 21)
You're going to have to look a little harder for love than usual this summer. It's not that you're any less appealing; you merely have higher standards than you did before. It's been nice to have Venus in your 8th House of Sex, of course, but even a relationship set in stone can improve when you apply your principles of excellence and consistency to your expectations -- and your own behavior. Pluto in your 3rd House of Communication will force you to be honest and direct with friends, who will seem less reliable than ever with planet Uranus inhabiting your 11th House of Peers and other people you gather with. Practice speaking from your mind as well as from your heart, and Venus will bring thrills and adventure to your bedroom.
Sagittarius (Nov. 22 - Dec. 21)
If you're about to ask the train you're riding to relationship, "Are we there, yet?" the answer is: YES! Jupiter has entered your 7th House of Partnership, and the action this summer should be non-stop! Just make any kinds of arrangements that involve your domestic life iron-clad. With an inflationary effect from Neptune on June 25, things could look rosier than they really are. If you're already in a relationship, you might find something incredibly lucky comes through your mate. Enjoy the warmth that comes through love, even if it feels for a moment here and there as though you're flying by the seat of your pants.
Capricorn (Dec. 22 - Jan. 19)
If your love life goes up and down over the course of the summer, it won't be because the right partner isn't there for you. The influence of overactive Uranus in your 4th House of Domestic Life over Pluto in your 1st House of Personality could create conflicts involving family, home life and real estate. It's important not to let this distract you. The Sun's arrival in Cancer and your 7th House of Romance on June 20 will warm you up to the idea of forgetting about everything but love, and you'll get an even more enthusiastic embrace from your loved one on July 18 when the New Moon brings all the feelings of love and passion you have for one another around for a whole new beginning.
Aquarius (Jan. 20 - Feb. 18)
It might be true that you have lots to do this summer, and you might believe you don't have as much time for relationship. The planets have other intentions for you, though, so be prepared and puckered up for a summer of love! Mercury's retrograde through your 7th House of Relationship will refresh your memory about how much you love to be with someone. If you're attached already, the two of you might decide to revisit an earlier time in your relationship, when you were sexier and saucier. If you're single, added emphasis on finding that special person could bowl you over on July 22, when the Sun enters Leo. For good measure, Mercury's move into Virgo on September 1 will make you chase down someone you can be sexy -- and talk dirty with.
Pisces (Feb. 19 - March 20)
Things have definitely changed for you, with Neptune in your sign, coloring the way you act and react to the people that surround you. We all want to trust in love, but for now you might want to also verify that you're being true to yourself when you talk about what you need. It's easy to get lost in a relationship, and then blame the other person for stealing your identity. It's better, though, to wait things out, and test the intentions of your significant other. Even if you've known one another for years, it's important to be accurately understood. Late summer will be your hottest time for love, when Mars and a New Moon grace your 7th House of Partnership, and let you know "It's time!"