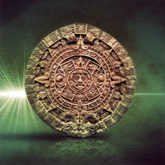 2012: Beyond the Mayan Prophecy

Here we are in the wake of a Presidential Election, the aftermath of Hurricane Sandy and the ongoing economic turmoil that's been impacting so many people around the world. And we still haven't reached the end of the Mayan calendar, scheduled for December 21, 2012.
You can get Rick & Jeff's Big Picture Yearly Forecast to find out more of what's ahead, but you don't have to be a Mayan scholar or a master astrologer to know that we live in interesting times. It's not life-as-normal on planet Earth. Something big is happening.
I was interviewed this past summer (along with 16 other astrologers, psychics, numerologists and Mayan scholars) by Paul Shavelson for his just-released e-book, "Beyond the Mayan Prophecy." However, my interview led to a more interesting involvement as Paul's personal story became entangled with his global worldview. I was further brought into the fold to do an astrological reading for Paul and his lovely wife, Rebecca (who was engaged in a medical battle for her life).
We tend to look at big events, like the Fukushima earthquake/tidal wave or Hurricane Sandy in conceptual terms, rather than personal terms. It's one thing to say that hundreds of thousands of lives have been severely impacted. It's another thing to be living one of those lives. "Beyond the Mayan Prophecy" addresses the large, conceptual framework of global change and puts the Mayan prophecies into perspective. But this book is also a heart-wrenching love story that entwines global and personal cataclysm into a single tapestry of life, death, transformation and a vision of what's to come.
I highly recommend Paul's brand new book. I find it compelling that it was released to the world along with the wrath of Hurricane Sandy. I am proud to have played a part, albeit a small one, in the manifestation of this thought-provoking book.
Find out what's in store for you with Rick & Jeff's Big Picture Yearly Forecast »