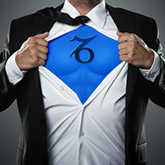 2014: A Brave New Year
Tackling the tough Astrology to better ourselves and others
Courage is not about being fearless; it's about maintaining self-control in spite of fear. This is a useful perspective to keep in mind as we move into the New Year. 2014 starts off with a bang that's likely to shake, rattle, and roll our world, requiring some bravery in the face of growing uncertainty.
On January 1 the Sun and Moon join together in the usually orderly and disciplined sign of Capricorn. A New Moon on the very first day of the year underscores the likelihood that the following 12 months are going to take us into unfamiliar territory. We might expect practical and responsible Capricorn to draw up a well-defined map to follow along the way. Think again...
See how this lunation and other aspects will affect your sign in 2014 with our Big Picture Astrology Forecast.
Not so fast!
We would expect a Sun-Moon conjunction in ambitious, hard-working, and dedicated Capricorn to initiate 12 months of increased productivity. The challenge, however, is that five planets form hard aspects (tense angles) with this New Moon that are more likely to spur surprises and provoke radical changes than to set a steady course for the future.
Potent Pluto, the mythological Lord of the Underworld, is less than one degree away from this event, adding depth, intensity, power struggles, purges and purification. The presence of this transformational planet signals the need to clean up old business, especially the messy parts that we'd rather not face, before moving forward.
Change is in the air
Pluto's outer planet partner in the process of altering the world is revolutionary Uranus. This symbol of freedom and surprises is in the midst of seven stressful squares with Pluto that started in 2012 and don't end until 2015. Therefore, wild, crazy, and shocking Uranus is square the Capricorn New Moon. That alone is enough to rattle our cages and put us in rebellious moods.
Resistance to routine and authority figures are common responses to this explosive aspect. Happily, it also inspires innovation that helps to liberate us from beliefs and expectations that inhibit personal growth. Breaking free of our internal rules and beliefs is a powerful first step toward personal liberation.
Aggressive Mars is somewhat tamed while transiting gracious Libra. However, the warrior planet's squares to the Sun, Moon, and Pluto and its opposition to electrifying Uranus can turn up the heat even higher. The potential for explosiveness is raised another notch by expansive Jupiter's squares to Mars and Uranus and opposition to the Capricorn contingent. We can also throw mental Mercury into the mix as it's closely conjoined with the Sun, Moon and Pluto. This is almost too much information to absorb, like a story with so many interconnected characters that we get lost in a multitude of relationships and plot lines.
New horizons...
The good news is that we don't have to ride all these planetary patterns simultaneously. The organizing principles of Capricorn allow us to set priorities and take on one task at a time. Pluto requires purging, Uranus breaks patterns, Mars initiates activities, Jupiter searches for higher meaning, and Mercury is hungry for facts. The Capricorn Moon sets a mood of commitment while the Sun in this sign is supplies self-respect.
Events and emotions may get out of hand during the next lunar month and, perhaps, throughout much of the year. But opening ourselves to discovery rather than bogging down in old patterns of fear and control not only reduces personal stress but makes us contributors to the next stage of human experience.
Happy New Year!
Track your own unique Astrology for the year ahead with our Big Picture Astrology Forecast written by master astrologers Rick Levine and Jeff Jawer »