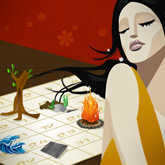 YEAR OF THE HORSE: Reveal Your Fortune...
Get personal predictions for the adventurous Chinese New Year ahead!

Today is Chinese New Year's Eve, so we're bringing back our 9-Star Ki Astrology Forecast for just a short period of time! It's the perfect tool to use to decipher your personal predictions for the upcoming Year of the Wood Horse -- and trust me, this year is extremely exciting!
Why should you care? Because Horse years bring fantastic opportunities for business, travel, adventure and personal growth. On a large scale, this could mean coming up with exciting new plans or even changing your life direction! Either way, discovery is the name of the game. And this is how Eastern Astrology can help...

This Chinese New Year we're offering our 9-Star Ki Astrology Forecast for a limited time only! Written by famed astrologer Stephanie Dempsey, this report uses your unique birth information to give you personalized, detailed predictions for the Year of the Wood Horse. It's extremely precise, offering yearly, monthly, and even day-by-day advice to chart the best dates to capitalize on this action-oriented Horse year.
Hurry before it's too late! Move forward with clarity and confidence in the Year of the Wood Horse with your 9-Star Ki Astrology Forecastnow to make the most of this life! You can also step through this doorway in time for free withTrialPay.