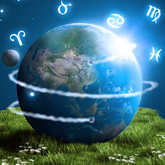 Astrology: Bali to Beijing
While New York is being hit by Hurricane Sandy, I'm safe and warm in my hotel room on the 21st floor of a fancy hotel in Beijing, China. My thoughts are with those battered by the storm in the city of my birth. I'm thankful to be on a gentler journey that began on October 4. I left home then to teach a pair of seminars in tropical Bali with my StarIQ.com buddy Rick Levine.
This was our fourth visit to this magical place, where we shared our insights on relationships and the structure of the zodiac to a group of students from the U.S., Holland, Australia and Japan. The planets were as warm as the equatorial Sun as we worked in the verdant rice fields of Ubud, Bali's cultural capital, and alongside the beach on the Venusian island's east coast.
Astrological practice is based on techniques that provide insight into the desires of our hearts and the inclinations of our minds. This is how we create readings like our popular Rick & Jeff's 30-Day Forecast report. Astrology's language continues to enrich my life after almost 40 years in the field, yet we do not experience Astrology in a vacuum. The beauty and spirituality of Bali reminded me that there are powers beyond words. I was touched, as I always am, by the calm kindness of the Balinese, who demonstrate the wisdom of their ever-present Hindu beliefs.
Streets are clogged with cars and uncountable numbers of motorcycles, yet road rage is an unknown concept in this peaceful place. The inner harmony found in their faith and practiced in their everyday lives taught me as much as anything Rick and I shared with the students. I'm particularly grateful to Astrologer Evelyn Roberts of Heaven and Earth Workshops, who organized the seminars.
Serving mankind through Astrology
My last day in Bali was spent at the home of world famous Astrologer Alan Oken, a student of the ancient mysteries whose work is rooted in spiritual ideals and principles. England's brilliant multi-Gemini Astrologer Melanie Reinhart was also staying at Alan's house, allowing the three of us to swim in endless conversations on the ways we have grown from our beloved subject, and how we can develop as individuals to serve humankind with the gifts of astrology. A central theme in our discussions was its value as a tool for consciousness rather than a method to limit our lives with simplistic predictions and fatalistic beliefs.
I left Bali with much more than with what I came. The community of students and the conversations with my colleagues reinforced my interest in moving beyond the boundaries of Astrology as a method of controlling events to make it a vehicle for helping humanity transform in these turbulent times.
From Bali to Beijing
I then went to Beijing at the invitation of my old friend David Railey and his business partner Felicia Jang, who are doing pioneering work in this rapidly changing country. Their company nodoor.com has been bringing Western Astrology to China for two years, and they are making great strides to educate students and the general public in the value of our cosmic art/science. My visit followed seminars by astrologers Noel Tyl and Steven Forrest, whose profound work has influenced students around the world.
Beijing's burgeoning Astrology community reminded me of what was happening in our field in the mid-1970s. The enthusiasm and passion for learning was matched by a willingness to speak honestly and emotionally. Our weekend workshop on Intimacy and Astrology brought home the common points we share as people and the differences in attitudes and expectations of our two diverse cultures. Yet we were bound together by our belief that Astrology is more than a tool for simply managing life -- it is an incredibly powerful and much needed means of transformation.

I'm heading home to suburban Seattle, where it will take me weeks to absorb what I have learned on this trip. The gratitude I have for being an astrologer is greater than ever, and my commitment to learn and grow from Astrology will continue with renewed faith in its potential to be a shining light on the future of humanity.
See what's in store for you with Rick & Jeff's 30-Day Forecast report »