July Is Just the Beginning...
Don't miss this month's extraordinary prospects for love!

Great news! Our expert Love Astrologer Maria DeSimone says July will kick off a 12-month love cycle that will be the hottest we've had in years! "Delicious romance is yours for the taking," she says, as Mercury Retrograde ends and lucky Jupiter makes its only move all year -- into spirited Leo, the sign that rules the heart.
This month it's possible to attain almost anything you desire in love, dating and relationships ... but only if you're ready! With a view of what's to come, you can use this "anything is possible" energy to maximize your romantic possibilities. Find out what lies ahead for you personally...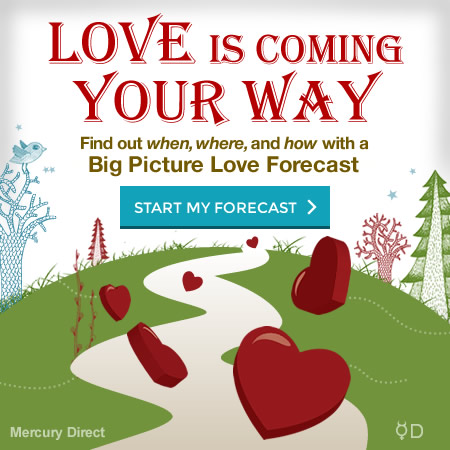 Our Big Picture Love Forecast is written exclusively for Tarot.com by Maria DeSimone, a counseling astrologer who specializes in love. Covering everything from your personal needs to cycles in romance, sexuality and more, this detailed report reveals peak dates and obstacles in your love life that will prepare you not just for July -- but for the thrilling 12 months ahead.
Don't miss this month's extraordinary romantic prospects, and get ready for the sensational love cycle from now until next summer! Get your Big Picture Love Forecasttoday! You can even get this 12-month forecast for FREE thanks to TrialPay.