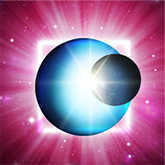 Cosmic Chaos: More Is Coming!
Get personal predictions to navigate the next 12 months!

This is the most challenging month of the year! The intense Grand Cross with Uranus square Pluto is happening as we speak, and there is even more upheaval on the way. With a Solar Eclipse, three more Lunar Eclipse "Blood Moons," and Mercury Retrograde still yet to happen, we are ALL feeling overwhelmed!
When so many things seem out of control, it's easy to feel helpless about the fate of your future. But believe it or not, all the personal and global shake-ups in the next 12 months can be a catalyst for major improvements. So curb your anxiety and open yourself to positive change!

One of the greatest things about Astrology is that it can help you anticipate and plan for what's ahead, taking the fear out of future unknowns. Created by Master Astrologers Rick Levine and Jeff Jawer, the Big Picture Forecastlooks at your unique birth chart over the next 12 months to map out your critical challenges, key dates and turning points. You'll be prepared to handle anything the universe throws your way, starting today!
Remember, you are not helpless. Prepare yourself for all the ups and downs with a Big Picture Forecast and move forward with confidence. You can even get these personal predictions for the next 12 months at no cost when you use our TrialPay partner offer.