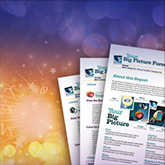 You've Waited Long Enough...
Get a year's worth of personal predictions at our lowest price ever!

You've heard the saying, "Good things come to those who wait," right? Well, it's true! If you were too busy over the holiday season to snag your Big Picture Astrology Forecast, now's your chance to get it at a deep discount!
To make sure you kick off your year with the profound insight this forecast offers, we're marking it down to our lowest price ever. Get this report now to make the most of what's coming your way in 2014!

Created by Master Astrologers Rick Levine and Jeff Jawer, the Big Picture Astrology Forecast tracks your unique trends, challenges, and turning points for an entire year. By examining the planets' effects on your personal birth chart, you'll receive a forecast customized for you and you alone. You'll be prepared for anything this challenging new year throws at you.
You've waited long enough -- start your 2014 forecast now for 35% off and be ready for what's ahead. You can even get this whole year's worth of insight at no cost when you use our TrialPay partner offer.