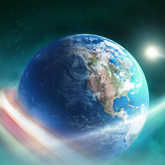 Your 2013 Astrology Forecast is Ready...
With the New Year on the horizon, prepare for change with this...

As the year winds down, the time has come to start thinking about what the New Year will bring. Sure, you've probably heard about the Mayan doomsday predictions. But here at Tarot.com, we're confident that 2012 won't be the end of things, but rather mark the birth of a new consciousness in 2013.
In addition, the infamous Uranus-Pluto squares will continue to shake up every part of your life, as they already have twice this year. Combined with opportunity-driven Jupiter's move into Cancer next year, knowledge will be your most powerful tool as you step into 2013. Prepare with this...
The Big Picture Astrology Forecast, written by Jeff Jawer and Rick Levine, highlights all the astrological trends and turning points for the entire upcoming year. Most importantly, this exclusive forecast looks at the planets' effects on your unique birth chart ... so you'll receive a forecast that is personalized for you and you alone.
See how your stars align in 2013 before anyone else!