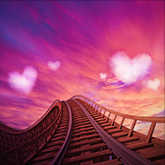 Mars Retrograde: It's Going to Be Bumpy...
Keep your eyes open, or you'll miss your opportunity to build a lasting love.

Life, especially love, can feel like an amusement park ride ... now more than ever with Mars Retrograde in Libra! It's a time when love and relationships can feel stalled -- like you're at the top of the roller coaster dreading the inevitable drop. But you don't have to feel helpless!
It's possible to anticipate romantic ups and downs. And with a view of what's to come, you can use the energy of this retrograde to turn your anxiety into excitement. Don't be caught off guard! Find out what lies ahead...

OurBig Picture Love Forecastis written exclusively for Tarot.com by expert love astrologer Maria DeSimone. Covering everything from your personal needs to cycles in romance, sexuality and more, this detailed report reveals peak dates that will prepare you for the next 12 months.
Make the most of Mars Retrograde to keep your love life on track. Get your Big Picture Love Forecast today! You can even get this 1-year forecast for FREE thanks to TrialPay.