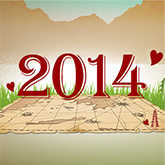 Your 2014 Love Forecast Is Here!
Get key dates and turning points to maximize your love life in the year ahead.

These are trying times when it comes to love. Romance has been on rough terrain all year, thanks to Uranus square Pluto. This unstable energy is especially potent right now due to the exact square we experienced last week. And it's happening all next year, too, rocking relationships everywhere.
So what can you do about it? Get a map! Nothing creates more confidence and stability than being prepared for what's to come. We've got you covered...

Our Big Picture Love Forecast was written exclusively for Tarot.com by expert astrologer Maria DeSimone. Covering everything from your personal needs to cycles in romance, sexuality, luck and more, this detailed report reveals peak dates that will prepare you for the year ahead.
Don't be caught off guard! Make 2014 your year for love with a Big Picture Love Forecast.