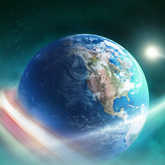 Your 2014 Astrology Forecast Is Here!
A new year is on the horizon, and this will prepare you for anything!

Romance has been on rough terrain all year, thanks to Uranus square Pluto rocking relationships everywhere! And next year's looking just as bumpy... So what can you do about it? Get a map! The Big Picture Love Forecast gives you personalized advice, providing you with the best and worst dates for romance in 2014. Don't be caught off guard! Find out what love has in store for you...

P.S. Here's even more to love: You can get this entire year's worth of romantic guidance for free with TrialPay!