It's Going to Happen, Are You Ready?
Don't miss this extraordinary opportunity for love!

It's true. Love has had its highs and lows this year -- but today you're going to see a MAJOR upswing! Love planet Venus just dove into passionate Scorpio, and according to expert Astrologer Maria DeSimone, "This cosmic shift will inspire us to dig deeper than ever in order to find or sustain love. Superficiality doesn't interest Venus in Scorpio; she's after profound love connections that transcend body and soul."
Yowza, and the good news doesn't end there! While this powerful Venus in Scorpio transit will end 2015 on a sweet note, lucky planet Jupiter will shift into relationship-oriented Libra in 2016 -- blessing you with phenomenal luck in love for almost a year. This kind of lasting romantic support DOES NOT happen often and can mean amazing things for your love life in the year ahead. Don't miss the gorgeous opportunities that are headed straight for your heart -- find out how you will be affected personally NOW.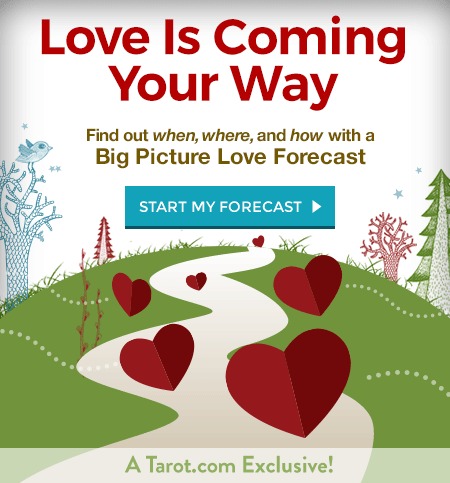 Written by Tarot.com's popular Love Astrologer Maria DeSimone, your Big Picture Love Forecast analyzes the planetary aspects that influence your relationships -- for good or bad -- over the next 365 days! With more than 10 chapters, including your romantic cycles, your sexual cycles, and your potential to find the right fit, this report offers widespread insight into your heart's next journey around the Sun.
Deep love awaits you! Get your Big Picture Love Forecast now to find out when, where, and how it will happen for YOU.