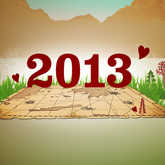 Your 2013 Love Forecast Is Here!
Chart your unique path of love for the next 365 days with this...

This weekend brings themes of love and expansion for everyone as Venus moves into Sagittarius! The planet of love in the sign of the adventurous Archer makes it the perfect time to look into the future to determine your romantic path for the next year. So draw your bow, fire, and watch as the next 365 days of your intimate journey are revealed with this...

Written by Tarot.com's expert astrologer and star of our weekly horoscope videos, Maria DeSimone, the Big Picture Love Forecast reveals what's in store for your love life over the next 12 months. Based on the influence of long-term astrological cycles and transits, this exclusive forecast helps you plan ahead for the perfect love life, and make the most of the peaks and valleys of your unique love landscape.
Use this Venus transit as your opportunity to enjoy the present and expand your vision for the future! Look at the year ahead with a Big Picture Love Forecast.