If there's anyone who adores receiving cards in the mail or phone calls of admiration on their special day, it's you Gemini. A natural born communicator, you're the type who constantly pursues all forms of intellectual stimulation. On your birthday, there's no better treat than good old fashioned dialogue and partying with friends and family. In fact, you might be so popular that you realize your voicemail is full and you've got a bunch of text messages to return before you've even had your morning birthday coffee!
Change is the name of the game
Perpetually curious, you're someone who'll likely be an eternal student. It's not uncommon for you to have your hand in several projects at once since your interests tend to be so diverse. Variety, in your opinion, is certainly what makes life interesting and you simply must have continual change in order to feed your restless soul. While you're malleable nature often produces a flexible personality, at the same time it's possible that you sometimes have difficulty following through on a commitment or project. This will be especially true if you're bored. Be careful not to flake out on a responsibility and avoid the seductive trap of gossip. If you have something to say, be sure to say it directly to the person it's meant for so that you can avoid any unnecessary communication drama.
You're so much more than just your Sun sign! Discover the rest of your astrological make up by trying our free Cosmic Profile.
Cerebral and social, when it's your birthday it's definitely time to have fun! Your fickle nature might make it hard for your friends to know for sure what gift you'd like most. Thankfully, since you're not one to take things personally, as long as you have company and good conversation on your special day, you'll feel like you have it all!
Share the birthday card below with all your Gemini friends!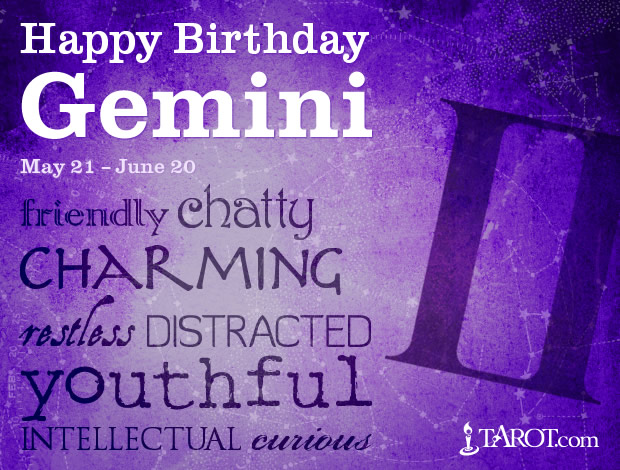 Click on any sign below to see and share more zodiac birthdays!