Discover your unique connection...
Ancient Irish insight reveals your Celtic roots.

You know your zodiac sign already ... but did you know you have a Celtic sign as well? Your Celtic Astrology sign -- symbolized by a sacred tree -- delves deep into a whole new side of your personality!
Ancient Druids revered nature and believed that each individual is linked not only to a tree, but to particular colors, gemstones, plants, animals and celestial bodies. Understanding your unique connection to Earth's magical properties will give you a powerful new perspective. Add enchantment to this St. Patrick's Day by asking yourself...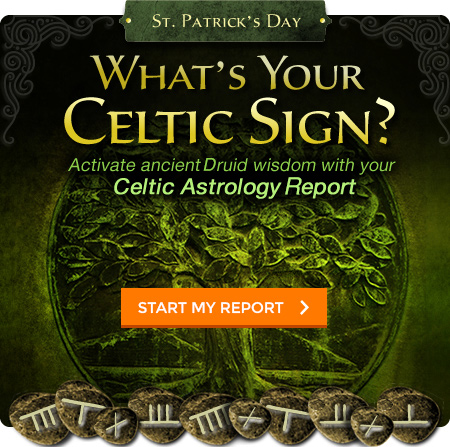 Tarot.com's exclusive Celtic Astrology Reportreveals your Celtic tree sign, ogham, color, gemstone, spirit animals and more! Explore your basic character, career path, and romantic nature from a Druidic astrological point of view.
Get your Celtic Astrology Reporttoday and become closer to the natural and supernatural energies surrounding you. You can also get your report for nothing, thanks to TrialPay.