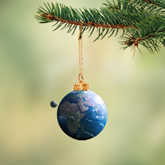 Astrology of Christmas Day 2012
Will it be merry, or will it be mutiny?

Feeling testy? A little defiant? It's not your imagination. Although Christmas Day is meant to be a time filled with peace, joy, love and the overall spreading of good cheer, you and those around you might grapple with an overwhelming feeling to ditch at least one of your tried and true holiday traditions and go a bit rogue.
I can't blame you -- not with the feisty planetary line-up we have in store. You can see what's coming up for you personally with a 30-Day Forecast Report, but here's the lowdown on the Astrology of Christmas Day.
Sun square Uranus
Most notably, the Sun will rub elbows with Uranus in a tense square. When these two planets put up their dukes to fight it's almost always about rebellion against what everyone expects from you.
You're not about to sit quietly and obey the rules when this energy looms in the sky. In fact, you're more interested in breaking free from rules because, somehow, they've become rather suffocating. Remember, however, that this energy is not only about you. You may notice it in a jarring way from anyone you encounter -- particularly if they have personal planets or a Rising sign near 4 degrees of any Cardinal sign (Aries, Cancer, Libra, Capricorn).
In the context of a major holiday, this could mean that instead of the usual dinner you enjoy with your clan, Mom or the top chef decides to take the day off, forcing other relatives to regroup and concoct a new, more unusual menu. You may also decide to do something radical when it comes to your traditional gift giving practices. Either the gifts you choose for and receive from others will be a little "out there" or you may decide to do away with tangible gifts altogether. Even if it's as simple as an unexpected dinner guest who rattles the balance of your family's comfort zone, what you will undoubtedly remember about this Christmas is that it was different from the norm.
You may try to "run away" from the trappings of the holiday rather than embrace it. If this occurs, you'll have your reason but please remember that this energy is so fleeting. Don't allow yourself to become overwhelmed with agitation that you later fill with regret each time you recall Christmas of 2012. In fact, Sun-Uranus energy can be quite energizing, if used properly. What an opportunity to begin a new tradition with your family and friends that you'll embrace for years to come! You'll also have a chance to show off your originality this Christmas. Whether that's with decorations, food, gifts or anything else is up to you.
Mars in Aquarius
Another key astrological pattern that emerges in the sky as we approach the latter part of Christmas Day is that Mars, the planet of action and motivation, will change signs -- moving into inventive, cerebral Aquarius. Mars will remain here until February 1, 2013 and during these weeks will enjoy a special relationship to Uranus in Aries. Mars is the planetary ruler of Aries and Uranus is the planetary ruler of Aquarius. As you can see, these two signs are hosted in the other's ruling planet for a stretch, which gives them honorary strength in a pattern called mutual reception.
When two planets are in mutual reception they share a special unification. Thankfully, this will be a happy occurrence because Mars and Uranus, when bickering, can lead to violence, accidents and aggravation. During this mutual reception however, we'll enjoy the best of what Mars and Uranus can offer us when they work together as a team. This is incredible energy to pursue your individuality and those eccentric endeavors without anyone holding you back. Consider it a green light to revolutionize yourself in some capacity.
I will say that because this begins the very evening Sun is square Uranus we might not see the positive right away. In fact, even if it's a white Christmas for you, fireworks are likely. Fireworks represent freedom, but if used improperly they can be quite explosive. You or those around you might be ready for a radical change and this shift may ultimately be positive. The problem will be in the delivery. Don't expect it to be gracefully executed.
On a different note, with all of this Uranian energy electrifying the sky on Christmas Day we're likely to see plenty of technology-related gifts exchanged. That's because Uranus rules technology and the Internet. Skype or FaceTime might prove a blessing if there's a loved one you want to connect with who doesn't live nearby.
So you see, all of this Uranus in the face of Christmas doesn't have to be a bad thing. As usual, awareness is everything and in the end the choice is yours. Will your Christmas be Merry or Mutinous?

Get more insight about what's next for you with a 30-Day Forecast Report from Tarot.com!