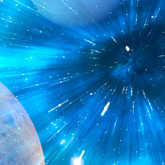 What's Next in Astrology
Major Astrology events from June 8 to July 7, 2013
Master Astrologer Jeff Jawer reveals the key planetary activity stemming from the New Moon in Capricorn on New Year's Day, including the key Astrology events from January 1-19, 2014.
Start the year off right with a 2014 Big Picture Astrology Forecast for key dates and predictions for your entire year ahead, and read on for this month's biggest cosmic news.
New Moon in Capricorn
Wednesday, January 1, 3:14 a.m. PST, 6:14 a.m. EST
Capricorn is a sign of order, discipline and structure, but these qualities may be hard to find during this explosive lunation. This Sun-Moon conjunction is joined by provocative Pluto and brainy Mercury, opposed by inflationary Jupiter, and it forms disruptive squares with aggressive Mars and impulsive Uranus. This New Moon in Capricorn is a heck of a way to start a new year, yet the choice is clear: Either we become agents of change willing to make radical adjustments in our ideas and actions, or we struggle with surprises and pressures imposed upon us.
Yes, we're facing unfamiliar circumstances, but this lunation can also be the trigger point of evolutionary leaps in consciousness that free us from old limits and reveal a new reality of expanded possibilities. Minds open wide on January 2, with factual Mercury's opposition to philosophical Jupiter. Exaggeration and mishandling details are potential negatives, while intellectual breakthroughs and honest communication are plusses.
The New Moon in Capricorn usually instills discipline and direction, but this wild and crazy lunation is more about creating fresh models for tomorrow than succeeding within the constraints of today's reality. The commitment and dedication of this Earth sign are meant to serve change in these transformational times. Self-trust, even when interrupted with crises or confusion, is a powerful way to overcome the limits of the past and to create a more vibrant and fulfilling future.
Mercury conjunct Venus
Tuesday, January 7, 2:02 p.m. PST, 5:02 p.m. EST
Venus Retrograde and forward-moving Mercury meet to connect hearts and minds. It's an opportunity to clarify desires, reassess relationships and re-evaluate resources. Gracious communication allows us to discuss delicate issues without getting lost in emotions. This cosmic union in conservative Capricorn is useful for laying down rules, outlining expectations and giving form to creative concepts. Still, ideas under consideration now may not be realizable before Venus turns direct on January 31.
Venus conjunct Sun
Saturday, January 11, 4:25 a.m. PST, 7:25 a.m. EST
Self-love is the higher purpose of this aspect. Simply appreciating who we are without criticism or complaint creates a pattern of acceptance that makes us more attractive. Getting the approval and recognition we desire starts by learning how to please ourselves. While narcissism is a possible downside of this union, tapping into the beauty within to make art, radiate love and enjoy the pleasures of this precious planet are among its many rewards.
Mercury in Aquarius
Saturday, January 11, 1:35 p.m. PST, 4:35 p.m. EST
Cerebral Mercury's shift into this smart sign is like getting a 10 percent boost in IQ. Airy Aquarius is objective, open-minded and fascinated by unconventional ideas. Noticing larger and more complex patterns is common during Mercury in Aquarius, which lasts until January 31. However, Mercury turns retrograde in Pisces on February 6 and revisits brilliant Aquarius to spur another round of original thinking, community consciousness and social awareness from February 12 until March 17.
Full Moon in Cancer
Wednesday, January 15, 8:52 p.m. PST, 11:52 p.m. EST
Security is a key issue with this lunar opposition from the Moon in protective Cancer to the Sun in practical Capricorn. The Moon's presence in this subjective Water sign is meant to balance external ambitions with internal comfort. Feelings may run strong if an overload of obligations allows us to ignore our subjective needs. Yet this Full Moon in Cancer can also reveal ways to satisfy our souls while attending to life's material demands. Connecting the personal and the professional sides of ourselves adds meaning to work and structure to emotions, providing a profound sense of safety and purpose.
Neptune trine Moon's North Node
Friday, January 17
This subtle but harmonious alignment between forgiving Neptune and the Moon's Nodes (trine to the North Node, sextile to the South Node) helps to overcome our sense of separation from others. Compassion softens the hard edges of judgment, making it more comfortable to accept people as they are. It's easier to find individuals who share our ideals, imagination and spirituality for up to a week before and after this favorable pair of aspects.
Sun in Aquarius
Sunday, January 19, 7:52 p.m. PST, 10:52 p.m. EST
The cool winter Sun in the Northern Hemisphere reflects the distance and detachment of Aquarius. This solar symbol of ego is less self-centered in this group-oriented sign. Oddly, the Water-bearer belongs to the intellectual Air element, placing a greater emphasis on concepts than feelings. It is idealistic in principle, but sometimes impersonal, as initial friendliness doesn't necessarily lead to intimate connections. We need space and resist rules with the Sun in Aquarius because freedom and discovery are valued more than tradition now. Aquarius is the sign of community, inspiring us to keep learning and evolving to create a better future for everyone.

Get your 2014 Big Picture Astrology Forecast for your entire year ahead »