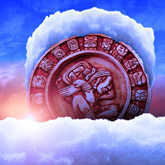 December 21, 2012: The Cosmos Converge
Winter Solstice, Sun in Capricorn and the end of the Mayan calendar

It's finally here! The epic date of December 21, 2012, which we've been hearing so much about for so many years, is finally here. And no, the world is not going to end, but yes -- it's a mighty day for many other reasons!
First of all, we know this date stands out in many minds because of its association with the Mayan calendar -- and also because of that really bad John Cusack movie from a couple of years ago. But in the minds of Astrologers and Numerologists, this date has more true significance. And you can see what's coming in 2013 with a Big Picture Yearly Astrology Forecast.
When the Sun moves into Capricorn on December 21, 2012, it also marks the Winter Solstice and the beginning of our return to the light. On this darkest night of the year, a cycle of the Mayan calendar ends, but life on Earth grows stronger and brighter as we move forward into the longer days of winter and the most serious sign of the zodiac.
The Sun in Capricorn is a time of determination, when we set new goals for the New Year and begin working harder to reach them. From the moment the Sun moves into Capricorn until New Year's Day of 2013, we'll celebrate the hectic holidays and the arrival of winter by reflecting on the past year, learning from its lessons and looking to the future with renewed hope.
It all adds up to a great awakening
In Numerology, the date of 12/21/2012 is also considered extraordinary because the sum total of this number arrangement reduces to an 11, and then down to a 2. Together this adds ups to challenges, and the need for personal awareness that will lead to our individual transformation first, and eventually a great awakening on a global scale.
Whatever you may have heard about December 21, 2012, it's not the end of the world. There is no wayward Planet Nibiru on a collision path with Earth. There will not be a total blackout of the Earth. There are no unusual planetary alignments. There is no polar shift and Earth will not reverse its rotation.
But it is the end of fall, the end of the year and the end of an era -- as well as the beginning of a great new one. Remember, December 21, 2012 is just the beginning of a powerful time of profound change that starts right now -- with YOU.
See what's coming with a Big Picture Yearly Astrology Forecast »