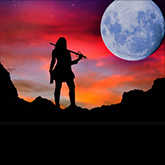 This Full Moon is Stirring It Up
The moon only plays a small part in today's heightened emotions

Today's Full Moon in Gemini is mentally and emotionally charged! This energy will cause deep thoughts and feelings to race through your mind, leaving you feeling a bit lost and questioning how you got here. The answers you need now lie within your past.
All the things that happened in your past lives are carried over into this one. Your habits, fears, and even all the people you know are here for a reason. By understanding your past lives you can make this life more meaningful!

Based on the studies of the world-famous psychic, the Edgar Cayce Past Life Report compares the positive and negative influences of planets in your personal birth chart and suggests what lessons you are meant to learn from these placements. It also provides an in-depth summary of the types of lives you've lead over the centuries.
Apply the lessons of your Edgar Cayce Past Life report to find more meaning in your present life during this Full Moon! If you use TrialPay, this special insight won't even cost you anything.