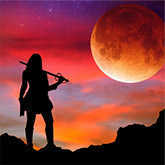 Full Moon Eclipse In Scorpio: Reveal Your Past
Dig deeper into your past lives while the Moon is full in Scorpio

Today's Full Moon Lunar Eclipse in Scorpio is charged with intensity! If the sign of death and rebirth isn't enough to be worried about, the Lunar Eclipse will stir up past feelings, old habits and expectations. It's going to be a roller coaster ride of emotions.
The habits that we carry over from past lives are some of the hardest to break. The only way to make lasting changes is to uncover the roots of the situation. Use this Scorpio Full Moon Lunar Eclipse to dig deep into your past lives and discover truths about how patterns got started in the first place...

The Edgar Cayce Past Lives report compares the positive and negative aspects of planets in your personal birth chart and suggests what lessons you are meant to learn from these placements. It also provides an in-depth summary of the types of lives you've lead over the centuries.
Apply the lessons of your Edgar Cayce Past Life report toward achieving mastery in your present life. Letting go makes room for new, better versions of you! And if you use TrialPay, this special insight won't even cost you anything.