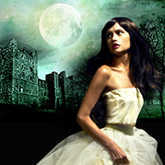 This Full Moon Can Reveal Your Past Lives!
Make peace with your past to secure your future!

This week's Full Moon in Aquarius is an electrically-charged event that creates a doorway from our past to our future. The Moon is heightening our instincts and bringing thoughts and experiences from our past right into the present moment! Normally you can push away these uneasy feelings, but this time they won't be that easy to escape.
As your instincts grow stronger now, so does your need to know your place in the world -- who you are, where you've been, and where you're going. Your future is directly tied to your past, so take a journey back through time to reveal profound lessons you can use to shape your life today. Because, remember...

To honor the intuitive powers of this Full Moon, we're marking down our Edgar Cayce Past Lives report -- 25% off! This awe-inspiring report uses your unique birth chart to reveal the energies, lessons, and personalities of your past lives that are still influencing you today. Go back in time to learn from and let go of the past so you can reach your full potential in the present!
Bring back the lessons your soul has already learned during this Full Moon with an Edgar Cayce Past Lives report.