PRIVATE: Behind Closed Doors...
Explore the taboo ... it's good for you!

Let's talk about sex! Why? Because we've learned some stimulating facts that show it can drastically improve your overall life and health! Here are the facts...
It boosts your self-esteem and happiness
It reduces stress and anxiety
It increases mental and physical health
It makes you look younger
It builds confidence for more success in life
Sounds amazing, right? Who doesn't want to be happier, healthier and more confident? But let's be honest ... sex is not always on top of your busy priority list. Fortunately, this is a RARE exception! Venus, the planet of desire, is moving into a sexy position with Saturn, and in honor of this we are featuring one of our most exclusive, taboo reports...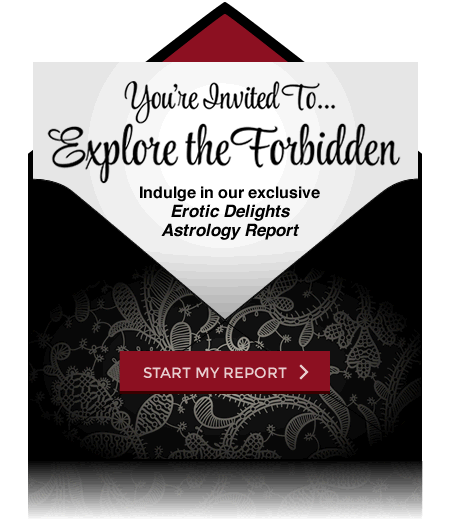 The Erotic Delights Astrology Report takes a provocative look at the positions of the planets in your birth chart to reveal your true sexual nature and help you maximize your erotic potential. It shows you how to make yourself irresistible, attract better lovers and enjoy physical intimacy more!
This racy report is rated NC-17, so get ready to accept this cosmic invitation to get wild! Start yourErotic Delights Astrology Reportnow and prepare for a sensual awakening. You can even transform this vital part of your life at no cost with TrialPay.