ASTRO ALERT! The Passion Planet Is…
On fire! It's time to explore the taboo…

Let's talk about sex! Why? Because it has been proven to drastically improve your overall health and happiness. And right now, Mars, the planet that rules your sex drive, is awakening strong urges as it moves through the bold, adventurous sign of Sagittarius. With such cosmic stimulation, your passion potential is peaking! This is how it may feel:
Your energy and enthusiasm are high
You're excited to try new things
You need more physical activity
You are more playful and fun-loving
You're far less inhibited than usual
Sounds like the ideal time to embrace your sexuality, right? But let's be honest ... sex is not always on top of your busy priority list. Fortunately, we know just what you need to make the most of sexy Mars in Sagittarius! Get your heart racing with one of our most exclusive, taboo reports...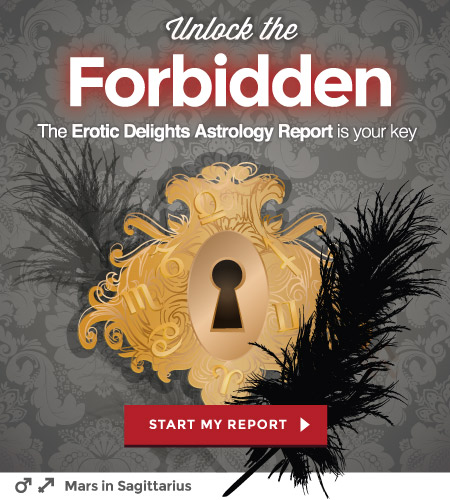 The Erotic Delights Astrology Report takes a provocative look at the positions of the planets in your birth chart to reveal your true sexual nature and help you maximize your erotic potential -- especially during this titillating transit! It shows you how to make yourself irresistible, attract better lovers, and enjoy physical intimacy more!
This racy report is rated NC-17, so get ready to accept this cosmic invitation to get wild! Start your Erotic Delights Astrology Report now and prepare for a sensual awakening. You can even transform this vital part of your life at no cost with TrialPay.