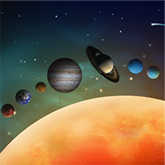 This New Moon Is Essential for YOU
This week's New Moon in Sagittarius is expanding our sense of purpose and vision for the future.

What's your sign? Our Sun sign is the one piece of Astrology we all know, but EVERY planet plays an important part in who you are, how you love, and what you do. The challenge to understanding these positive AND negative influences lies in knowledge ... and lucky for you, we're making it easy.
Like a map, your birth chart highlights areas of your life and personality that are smooth sailing, and also tedious areas that will lead to crises if you don't pay attention. By taking a journey through your complete birth chart, influences that have been working for (or against) you from the very start will be revealed!

Whether or not you've had your birth chart read before, this is your chance to get it done right! Gina Ronco's Essential Birth Report includes everything you could ever want to know about your personal Astrology. It even has a beautiful poster print-out of your birth chart, and it's all broken down into easy-to-understand segments with helpful explanations and personalized advice.
Knowing only your Sun sign is like looking at someone from a distance -- you won't truly understand yourself until you look closer at your chart, so get your Essential Birth Report now! You can even get this comprehensive report for free with TrialPay!