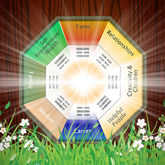 Desires are Waiting to be Fulfilled
Attract more of what you want as Venus move into Taurus

Prepare to be inspired! Venus, the planet of desire, has just entered Taurus -- the sign of beautiful things. We all deserve to be surrounded by the finest life has to offer, but how do you attract it?
Feeling good has everything to do with your personal space. By shaping your physical surroundings to support your deepest desires, you can actually attract more love, health, wealth, recognition or happiness. Here's how...

Tarot.com's exclusive Personal Feng Shui Report provides a personalized roadmap for balancing the energy in your space. The Chinese have been perfecting the art of Feng Shui for centuries. Now it's easy to put that wisdom to work for you.
Even small changes can have big results now. Use your detailed Personal Feng Shui Report to create the environment that attracts what you desire today, and into the future.