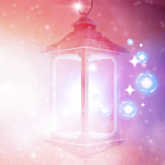 Insight Over Fright
Bringing fantasies down to earth during this transformative season

October gets otherworldly when the mysterious veil lifts and opens a door to spiritual dimensions. Celebrate the thrills and chills of Halloween with insight to light up your night and life.
Get in on the tricks and treats scattered throughout the site...
More Cosmic, Not Creepy Events
Halloween happens while the Sun is in Scorpio, and we're fascinated by the supernatural and hidden things lurking in the darkness. But October delivers a lot of loving, down-to-earth and open-minded energy, too!
Transformation Is a Beautiful Thing
The recently launched Tarot.com has a beautiful new look filled with articles on Astrology and Tarot, easier ways to find readings and reports, and introducing your personalized Changing Room! Though the site's evolved, rest assured your favorite features are still available, but may be under a new name...